Then came the good news: Camp Cullom, a non-profit camp between Mulberry and Frankfort, had obtained more land and was looking for uses for it. Russell Kaspar, who had been a member of the Wabash Valley Astronomical Society back in his high school days in the first years of the club's existence, and who had been involved with Camp Cullom his whole life, had convinced the Camp's board of directors to build an observatory there. The project got off the ground with a $10,000 donation from Janet Pillion (the original source was the estate of Charlie Stevenson). As plans (and dreams!) progressed, additional support came from the Clinton County Community Foundation, the Clinton County Foundation for Youth (the United Way agency that runs Camp Cullom), and Kaspar Broadcasting Group (WSHW Shine 99 and other radio stations, owned by Russ and his father, Vernon Kaspar). Several WVAS members and Dan Albaugh loaned and/or donated equipment for the observatory, including two computers, an astro-video system, a CCD digital imaging system, and a 7" aperture refractor. Vernon Kaspar provided a donation for an H-alpha solar filter. Volunteer labor was provided by John Mahony, Russ Kaspar, Dan Albaugh, Camp Cullom ranger/caretaker Hoppy Bray and board president Jerry Seager, Chris Peterson and many other Boy Scouts from the region, several WVAS members, two local carpenters, and several other individuals. Other contributions of material, time, and discounts came from Kramer Lumber of Frankfort, Lowe's Hardware of Lafayette, and Carpetland USA of Lafayette. Construction details are here.

Opening weekend was Friday and Saturday, July 20-21, 2001. Although the preceeding week was one of the hottest and most humid weeks of the summer, the clouds parted miraculously at sundown for a few hours of clear (but very hazy) viewing. About 100 people, including State Representative Jim Thompson, attended.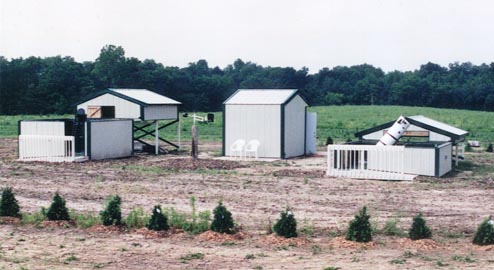 Public viewing events have been held approximately monthly during the warmer months ever since, with many additional group viewing events held for Boy Scout troops, church or community groups, etc. A schedule of public events can be found here.

In the later months of 2001, the Mulberry Cooperative Telephone Company donated a high speed internet connection. Both telescope mounts are computerized, so the computers and internet connection give us the ability to get the latest info on current comets and other objects, and have the telescopes move to them automatically.

In 2002, the Frankfort Eagles Lodge #976 and the Clinton County Highway Department provided a gravel driveway.

Later in 2002, the observatory's chief astronomer John Mahony made observations of asteroids that led to the observatory being named as an official asteroid tracking/discovery station by the Minor Planet Center at the Harvard/Smithsonian Astrophysical Observatory.

In August of 2003, the Indiana Family Star Party was inaugurated. This weekend-long festival has drawn over one hundred visitors annually. It provides amateur astronomers of all levels a chance to spend a weekend under dark skies with fellow astronomers, and provides novices a chance to use dozens of different amateur telescopes.

In 2003, Clinton County adopted a light pollution ordinance to help preserve the dark skies in the area.

In early 2004 we received a large donation with the instructions to get "the largest telescope we could" with the money. After months of research, we purchased a 28" aperture Starmaster Dobsonian with a SkyTracker "goto" drive system.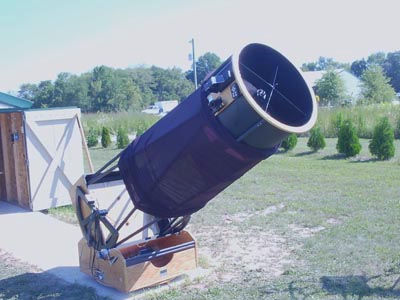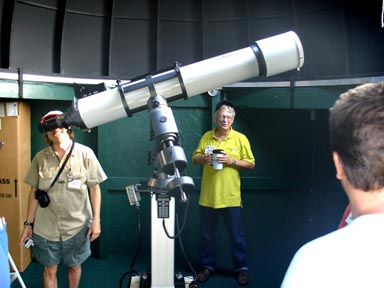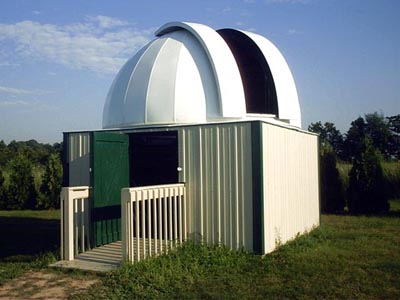 Just as we were finishing the dome, we got word that an anonymous donor had given us half the purchase price of a Meade 16" LX200R Schmidt Cassegrain on a "matching grant" basis. The next spring, the Clinton County Community Foundation matched the grant. This scope is a replacement/upgrade for our 12" LX200, so Bill Hayward, a major construction volunteer for the refractor dome and a member of the Wabash Valley Astronomical Society, convinced his employer, Fairfield Manufacturing in Lafayette, to donate the heavy metal plate and use of machine shop tools needed to modify our existing pier to accept the larger new telescope. The telescope was installed on May 4, 2007: